The healthy way of eating is to have the best food in breakfast, sufficient food for lunch, and just enough for dinner.
Every Friday, after Kenneth's violin class, we usually head to Chinatown for dinner. Last Friday, my wife wanted to buy some cosmetic products in Galleria Mall so we deicded to dine there. My wife suggested Daily Grill for dinner as she has a $15 coupon and tried it there before. I have never been to that restaurant so i said lets try out.
The restaurant is located at the second floor in Galleria Mall. The place appear to be cozy. We were seated next to the kitchen separated by only the glass wall so we could actually see the chief cooking inside, cool. There is a bar section serving a wide selection of wines but i am not much into alcohol.
As i am on diet, my wife and I decided to share a meal. We ordered salmon with sauteed spinach and mushroom while Kenneth went for the jumbo lump crab cake. The waitress served us some bread and butter before the main dish. The entree also came with the house salad. It didn't take very long before our meals are served as well. The waitress was kind enough to split my order into two plates so my wife and I can dine on our own plate (instead of sharing a plate which looked odd sometimes). Kenneth certainly love his dish! He loves any kind of seafood anyway. Afterwards, we all shared a dessert of creme brulee which tasted great. The bill came to about $41 which is not bad at all. Well, i had enough for dinner that's for sure.
Daily Grill restaurant (photo from Daily Grill website)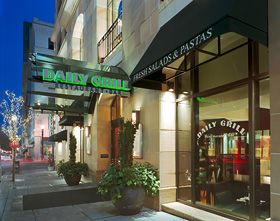 Following pics are taken from iPhone.